Biography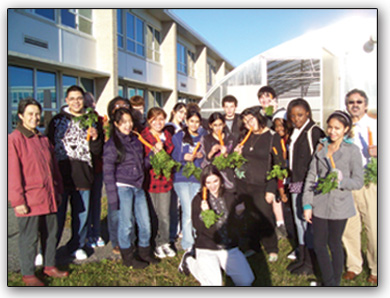 Karen DiFranza has been teaching about sustainability for over 20 years at conferences, schools, private organizations and at her family's organic farmstead in central Massachusetts. Since 2005, she has initiated and run two public school composting and gardening programs in the Quabbin Regional School District and has advised many schools in starting their own programs.
Ms. DiFranza is founder of Hands to Earth: Educating for a Sustainable Future which helps schools and other institutions develop responsible environmental stewardship through experiential learning in gardening, composting, and the exploration of local historic land use.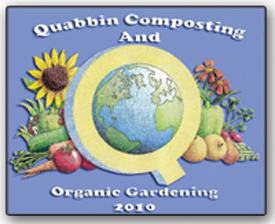 In 2008, the Massachusetts School Committee Association awarded Ms. DiFranza the Friend of Public Education Award for her work in creating the Hubbardston Center School Composting and Organic Gardening Program.
For "outstanding leadership in the school composting movement", she received a Goddess of Compost Award from the Massachusetts chapter of the Northeast Organic Farming Association (NOFA) in January, 2010.
Ms. DiFranza has appeared on the Public Television series, "The Victory Garden", and she has spoken on New York Public Radio.
Testimonials
William Evans, Principal, North Brookfield Jr.-Sr. High School
One of the stereotypes about high school students is that they can be difficult to motivate. I have found, however, that given the right information, the opposite can be quite true. Karen DiFranza offered the students of North Brookfield Junior-Senior High School some very compelling reasons to participate in our new composting program; and as a result, they do. Overwhelmingly so. Karen did not attempt to appeal to them emotionally or to use any gimmickry; she simply laid out the facts--clearly, in plain language, and with real examples that the students could see and easily relate to. So far, the program has been an overwhelming success.
Launa Zimmaro, founder, Carlisle Grows Green
In October 2010, the Carlisle School Organic Garden and Composting Project was launched. Since then, the program has become a part of school life, supported by parents and school administration and maintained by student volunteers in grades K-8 who tend the bin and garden beds. Much of the credit for the success of the program rests with Karen DiFranza who helped us design and implement a program that would work. A highlight of Karen's involvement was her presentation at two grade-based school assemblies to introduce the program to students and staff. Each presentation was distinct, informative, relevant and a perfect match for the primary and middle school students in the audience. Karen's knowledge of the topic combined with her professionalism and ability to communicate with children and adults earn her the rank of Master Teacher.
Deborah Hogan, Education Consultant, Mass. Agriculture in the Classroom (MAC)
(Regarding school composting and gardening presentation) "... inspiring, lively and engaging. Participants not only felt they could actually use what you shared, they appreciated the way you inspired them to try something new."
Thank you for all you did to help make the conference on Saturday a success. I especially appreciate that you were willing to bring students and to extend your session into the lunch time with real composting from conference participants. The students were enthusiastic and impressive. People really enjoyed your workshop session. They tell me they were wowed by your enthusiasm and that you made them feel that composting at the school is something that they might try for themselves.
Sue Hayward, Principal, Holden Christian Academy
Karen gave an informative and helpful multi-media presentation for a group of parents, teachers, and friends at Holden Christian Academy. Her enthusiasm was contageous and yet she was able to help us count the cost and carefully consider the magnitude of a school garden project. She helped us think through how a school garden could be a community service and get our students more involved and serving in the surrounding towns. Karen's vast knowledge and wide experience in gardening with students of all ages has already helped us get our garden off to a wonderful start and she has inspired us to think big and expand this program into every area of the school. I am so glad she lives in a neighboring town. I am sure we will call on her at every step!
Ann McGovern, Mass. DEP Consumer Waste Reduction Coordinator
Karen DiFranza is an excellent resource for the schools she works with, particularly since her areas of expertise are not typically available in most schools. On-site composting of school cafeteria waste is not an easy undertaking, and her success in developing and implementing the program at Quabbin Regional High School is an example for other school in Massachusetts to follow. Connecting with the community through the local farmers' market is an excellent way to educate other members of the community as well as expand the educational opportunities for the students into business and marketing.
Hiroshi Abe, On-site Employment Education Coordinator, Boston Higashi School
Thank you so much about everything today. The workshop was really great and helpful for me. Actually, I had been stuck with several questions about composting. But you answered all the questions and helped me to move our current garden project forward smoothly. I am extremely glad I could participate in the workshop and meet you. Hope we can invite you to Higashi School next year. Again, thank you so much.
Arlene Miller, Mass DEP Municipal Assistance Coordinator, Western Mass.
Thank you again Karen for the fabulous tour and lecture on on-site school composting. I know I learned a lot. What a fabulous program and you are a great resource. Thanks again.
Wisty Rorabacher, former high school teacher, Greenfield, Mass.
We here in Greenfield, are still only imagining how we might be able to create such on site projects on the campuses of each of our district schools. Your model is both an inspiration and a practical model. In the two weeks since visiting your campus in Barre, I have spoken at numerous meetings of your successes and challenges. You are already guiding our development. Thank you.
As a former high school teacher, I know how motivating it is for students to find a meaningful way to have a direct impact on their school and community. Your composting and gardening projects are obviously providing that. The involved students were marvelous - totally engaged in their work, responsive to our questions, so polite and well informed. Again, thank you!
Hands To Earth has partnered with:
No. Brookfield, MA Public Schools, school composting and gardening
Carlisle, MA Public Schools, school composting and gardening
Oakham, MA Agricultural Commission, school gardening
Greenfield, MA Public Schools, school composting and gardening
Agape Community, College Retreat programs
Amherst, MA Public Schools, school composting and gardening
Winchendon, MA Murdock Middle/High School gardening
Maynard/Stow Sustainability Fair
Barre Center for Buddhist Studies composting
Hardwick Elementary School composting and gardening
Hubbardston Center School Composting and Organic Gardening Program
Quabbin Regional High School Composting and Organic Gardening Program
Holden Christian Academy Composting and Gardening
University of Mass. Medical and Nursing schools, obesity study
Doherty High, composting and gardening
Conference and Event Presentations
Connecting For Change The Marion Institute
Sustainable Communities Conference
NERC.org (Northeast Recycling Council) School Composting Webinar
NOFA/ Mass. Practical Skills Workshop Presenter
Massachusetts Agriculture in the Classroom
-Summer Graduate Program, presenter
-Fall Conference, presenter
-Winter Conference, presenter
Maynard CAN A chapter of the MA Climate Action Network Maynard Sustainability Fair, 2010
Petersham Public Library Composting presentation
Massachusetts Farm to School Program Conference, demonstration
Massachusetts Department of Environmental Protection Organics Recycling Summit, presenter
Woods Memorial Library Barre, MA, Composting presentation
Waltham Fields CSA Field Day, Composting presentation
East Quabbin Alliance for a Healthy Community annual meeting, Keynote address
The Good Life Center Sustainable Living Intensive, Harborside, ME, Co-facilitator
Agape Community Fundraiser Speaker
The Thoreau Institute Concord, Mass., speaker
Georgia Organics Georgia Land Stewardship Annual Meeting, Keynote address0
PEAS (Providing Education through Agriculture for Students) Conference, Presenter