The Quabbin Regional High School Composting and Organic Gardening Program
"I can't think of any other school that is doing composting on the scale and scope that Quabbin is." - Ann McGovern, Consumer Waste Reduction Coordinator for Mass. Department of Environmental Protection
In collaboration with the Listening Wellness Center, Hands to Earth runs a comprehensive composting and organic gardening program at Quabbin Regional High School. Student volunteers in the Quabbin program: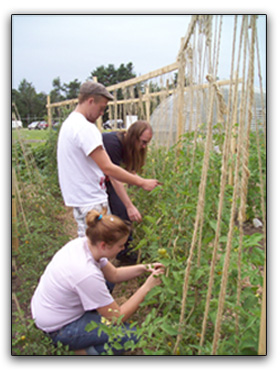 Collect cafeteria food scraps daily and compost them on site
Use their finished compost to enrich an organic garden
Raise fresh vegetables for use in the school cafeteria
Sell fresh vegetables at the local farmers' market during summer vacation
Donate fresh produce in season to the local food bank
Demonstrate composting at conferences, festivals and farmers' markets and give workshops on composting and organic gardening
Host visiting groups from high schools, colleges, medical and nursing schools, and municipalities interested in replicating the Quabbin program
Here are some of the venues where Quabbin students have presented workshops and demonstrations: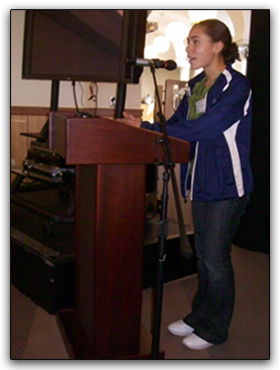 Sustainable Communities Conference
Massachuesetts DEP Organics Recycling Summit
Northeast Organic Farming Association Winter Conference
Massachusetts Farm to Cafeteria Convention
North Quabbin Garlic and Arts Festival
Massachusetts Agriculture in the Classroom Conference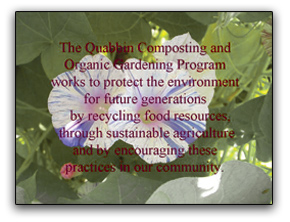 Funders for the Quabbin Composting and Organic Gardening Program include: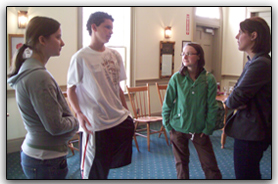 Waste Management, Inc.
The Green Leaf Foundation
The Greater Worcester Community Foundation
Local businesses and residents of the Quabbin Regional School District community
For more information contact Hands To Earth and visit the Quabbin Composting and Organic Gardening website.
View materials list and photos of HOW TO BUILD A COMPOST BIN.
Media:
Please read the Worcester Telegram and Gazette Article about the Quabbin Regional High School composting:
A healthy garden of their own: Composting program at Quabbin plants seeds to success
Please view the Telegram & Gazette video about the Quabbin Regional High School Composting program:
Quabbin Internship Opportunities: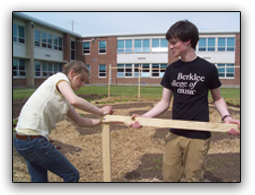 The QCOGP also offers paid summer internships for college students interested in learning about agricultural sustainability. The internship includes hands-on learning in the Quabbin garden, working at the Barre Farmers' Market, and experience in environmental education. For more information about the college internship please contact us.
The Hubbardston Center School Composting and Organic Gardening Program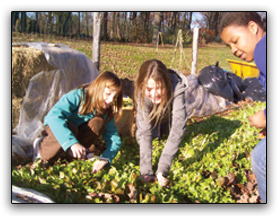 Since 2005, student volunteers in grades K-6 have:
Composted 6 tons of food leftovers a year on site
Cultivated a 70 ft diameter organic garden fertilized with their compost, producing fresh vegetables for the school cafeteria
Helped support their program by saving and selling garden seeds in student-illustrated seed packages
Stored school garden produce in a root cellar
Created soups, pizza, savory pancakes and snacks with their stored produce
Explored the connection with local agriculture, past and present
Worked with student interns from area colleges majoring in sustainability and environmental education. Please contact us for internship information.
The Hubbardston Center School Composting and Organic Gardening Program began in 2005 when resident Charlie Clark built our first compost bins. Since then, 6 tons a year of cafeteria leftovers have been recycled into rich compost for the school's organic garden. About forty student volunteers collect leftovers each day from 4 lunches and take this organic material out to the bins. There they mix them with dead leaves from the school grounds or wood shavings to create the perfect balance for microbes who will feast on the pile. The outcome of this feast is the world's best garden fertilizer.
Dedicated student volunteers meet after school and during summer vacation with their families to maintain the garden. In the fall, HCS students are treated to the freshest and most delicious carrots, cherry tomatoes, cucumbers and lettuce from the garden every week. Our hope is that these fabulous foods will help all our children know not just the health benefits but the incomparable taste treat of fresh foods. We hope that these experiences will stay with them and influence eating habits during their lives.
As students observe the collection of food scraps, the composting process, and the production of new, delicious vegetables, they develop a firsthand understanding of the cycle of life. The idea of conserving valuable resources becomes a part of their thinking. Their involvement in the life cycle helps them to see that we are inseparable from the environment, and that taking care of the environment means taking care of ourselves.
Some of our volunteers are old enough to understand the impact their work is having on the environment. They know this is important work, both in the good it can do, and in the harm it can avoid. This knowledge helps build self-esteem and empowers children to make a valuable contribution to society. They begin to know the joy and satisfaction of giving back to the community.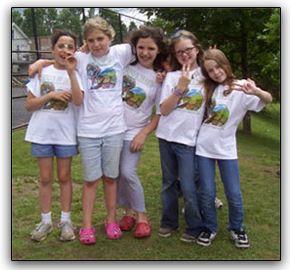 Finally, these children begin to understand that work can be fun and fulfilling. Kids love to be involved in hands-on work. Many of them know little about physical work, and the discovery that it can actually be fun is an important one. Children who know how to work and value work are valued later as employees or create satisfying work for themselves in the world. This leads to economic stability and security for them as adults.
Contact Hands to Earth for more information about this and other school programs.
Please view the MAC Conference Photos Album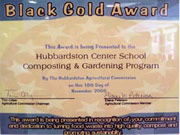 In recognition of their commitment and dedication to turning food waste into high quality compost and promoting sustainability, the HCS composting and gardening program was presented with the Black Gold Award by the Hubbardston Agricultural Commission.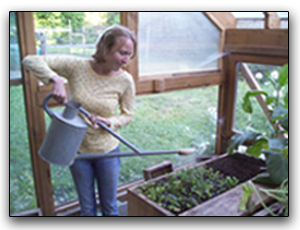 Apprenticeship Opportunities:
Down to Earth Farm
Karen DiFranza
94 Hale Road
Hubbardston, MA 01452
(978) 928-5685
We are mainly looking for people who already live within driving distance of Hubbardston in central Mass. from May 1 - October 31. Apprentices would work and learn with us on our homestead which supplies us with year-round vegetables, goat milk, yogurt and cheese, eggs, some fruit and health products. Work alongside organic gardener/educator and homesteader with over 30 years experience in organic, no-till gardening, raising dairy goats and laying hens, preserving and preparing whole foods, baking bread, making cheese, heating with wood, creating home-grown health products (tinctures, salves, oils, infusions), manure and garden composting, raising healthy children, home schooling, living simply.
We teach a wide variety of skills that promote sustainable living, and we strive to meet the needs and interests of our apprentices. Selected readings from our sustainability library available; these provide a good background for valuable discussion and exchange of ideas during work time.
In addition to sharing our knowledge and experience, we provide apprentices with weekly supplies of organic produce, eggs and cheese. Most of our apprentices work one or two mornings a week from roughly 8AM to 1PM. Although we hope to have apprentices from May to October, we accept students whose availability is limited to summer vacation months. Because we are not a commercial enterprise, we cannot offer a stipend. We offer an educational experience, the best and freshest organic foods, and a chance to learn life-changing skills.
Karen DiFranza also runs a high school and an elementary school composting and organic gardening program where opportunities are available for apprenticeships in environmental education.
Please
Contact Us
for more information about internship and apprenticeship opportunities.
Conference and Event Presentations
Connecting For Change The Marion Institute
Sustainable Communities Conference
NERC.org (Northeast Recycling Council) School Composting Webinar
NOFA/ Mass. Practical Skills Workshop Presenter
Massachusetts Agriculture in the Classroom
-Summer Graduate Program, presenter
-Fall Conference, presenter
-Winter Conference, presenter
Maynard CAN A chapter of the MA Climate Action Network Maynard Sustainability Fair
Petersham Public Library Composting presentation
Massachusetts Farm to School Program Conference, demonstration
Massachusetts Department of Environmental Protection Organics Recycling Summit, presenter
Woods Memorial Library Barre, MA, Composting presentation
Waltham Fields CSA Field Day, Composting presentation
East Quabbin Alliance for a Healthy Community annual meeting, Keynote address
The Good Life Center Sustainable Living Intensive, Harborside, ME, Co-facilitator
Agape Community Fundraiser Speaker
The Thoreau Institute Concord, Mass., speaker
Georgia Organics Georgia Land Stewardship Annual Meeting, Keynote address
PEAS (Providing Education through Agriculture for Students) Conference, Presenter