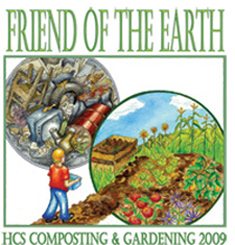 Why Compost
Food scraps, leaves, grass, wood shavings and other organic materials are all valuable natural resources. Composting sustainably conserves these resources.
Composting natural resources aerobically is an environmentally friendly process that avoids the production of methane, a powerful greenhouse gas which results from anaerobic decomposition.
Finished compost is a nutrient-rich growing medium with a high level of organic matter that helps retain moisture in the soil. As a result, the application of compost can reduce the need for irrigation by 30-70%, saving water.
Compost not only provides plants with nutrients, it helps plants absorb nutrients more readily. These benefits help the organic gardener grow without the use of petroleum-based chemicals.
Living beneficial microbes in compost help plants resist disease, a major strategy in eliminating the use of chemical pesticides.
Composting is easy and available to everyone; even apartment-dwellers can use vermicomposting to recycle food scraps.
Composting helps us understand our role in the life cycle and our connection to the environment.
Compost holds carbon in the soil, preventing its release into the atmosphere as a greenhouse gas.